… WINTERWONDERLAND BERCHTESGADEN, there is a lot to do in wintertime.
The Königssee in Winter
The ships are departing the whole year, excepted, if the lake is frozen.
The boats are heated in winter.
Approximately every 7 to 10 years, the lake is completely frozen, so you can
go ice-skating.
Langlauf und Skating
More than 100 km prepared cross-county skiing routes. 4 of them are located
at the Obersalzberg 1.100 m, 9km.
cross-county skiing center Aschauerweiher
cross-county skiing Scharitzkehl
cross-county skiing Schönau am Königssee
cross-county skiing Oberau near Berchtesgaden
cross-county skiing Ramsau
cross-county skiing Marktschellenberg Scheffau
cross-county skiing Bad Reichenau & Bayrisch Main
cross-county skiing Rupertiwinkel
The beautiful scenery, the snowy mountains, the white fields and meadows,
the calmness of the nature …
Ramsau Magical forest Hintersee
Malerwinkel Königssee
winter hiking Klausbachtal
Carl von Linde Weg at Obersalzberg
Höhenkurweg Predigtstuhl
Nationalpark Berchtesgaden
Märchenpfad am Aschauerweiher
Kneifelspitze
…searching the salt
Friedensbergweg Marktschellenberg
Maximiliansreitweg
Hallthurmer Weg
Roderlbahnweg
tour through Schönau
Kälbersteinsprungschanze
Böcklweiher
walking through Berchtesgaden
Soleleitungsweg
Hochschwartzeck
Brandkopf
Wimbachschloss
Grünstein
Stubenalm
Skischule Oberau
Schneeschuhwandern with Bauhofer Hilde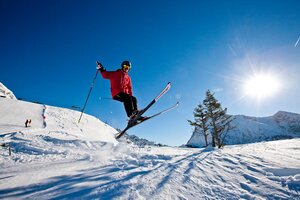 6 ski and snowboard areas with 60 kilometers of racing tracks in 600 to 1.847
m, for beginners and professionals.
Cause normally there is a lot of snow until spring time, it's the perfect place for
a family skiing holiday.
Ski-Center Götschen Bischofswiesen (floodlight, half pipe)
Jenner at Königssee (8 kilometer downhill track)
Rossfeld Oberau
Zinken Bad Dürrnberg, Austria
Family skiing area Gutshof at Obersalzberg
Hochschwarzeck Ramsau
Grünsteinlift Schönau
3 and 6 day ski passes
The ski pass is valid for three or six days.
The ride with the RVO-busses, round-trip is included, also a four hour entry to
the Watzmanntherme.
Barrier-free Ski areas
The Skiarena Obersalzberg, the ski area Roßfeld and the ski area Götschen
are handicapped accessible!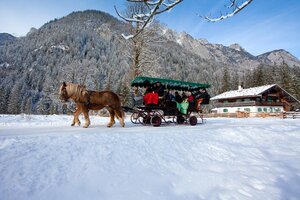 Nationalpark Berchtesgaden
Mitterweinfeld
Thats for somebody who likes more going uphill sporty and going downhill
through the fresh powder.
Be carefully! Avalanche danger! Environmental Protection!
Please note signs and information in advance!
Salewa Skimountaineering area at Gutshof (perfect for beginners)
Jenner at Königssee
Götschen
Hochschwarzeck
Rossfeld
Ready, steady, go!
Hirscheckblitz Hochschwarzeck Ramsau
Rodelbahn at Obersalzberg Berchtesgaden
Rodelbahn Marktschellenberg
Rodelbahn Hammerstiel, Voderbrand, Spinnerwinkel Schönau am Königssee
Bobsleighting for tourists at Königssee
Experience the fascination of speed on the ice track at first hand.
You can experience the tracks of olympic champion Georg "Schorsch" Hackl.
Here you can find the dates for feeling that experience.
Das Rennbob-Taxi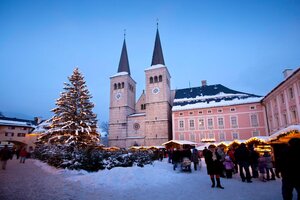 The advent season in Berchtesgaden have a very special charm and tradition.
The time before christmas is called "die Staade Zeit" ( The quiet time).
Christmas markets
Berchtesgadener Advent
Bad Reichenau
Stille Nacht Laufen-Oberndorf
Salzburg
Christmas customs in Berchtesgaden
Buttnmandl (Berchtesgadener Brauch an Nikolaus)
Klöcklsingen (Berchtesgadener Brauch)
Weichnatsschützen (Berchtesgadener Brauch)
…after an active day in the mountains, it's the best to relax on the sauna and
to have a swim.
Far from the classic winter sports or just to try something new…
Hochschwarzeck
Götschen
Gutshof am Obersalzberg
… see the world like a bird, from above, everybody dream…
Jenner am Königssee
Predigtstuhl